PADS
Due to Covid-19 the PADS site is closed.
"For I was hungry, and you fed me. I was thirsty, and you gave me a drink. I was
a stranger, and you invited me into your home.  I was naked and you gave me clothing"
Matthew 25:35-36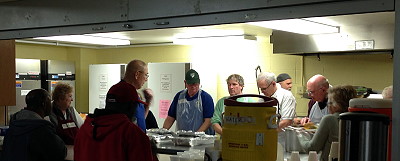 United Protestant Church has hosted PADS guests for 27 years. Each Thursday night, in association with other churches in our area, UPC feeds and shelters guests from October through April. Each Thursday begins with youth volunteers setting up Fellowship Hall. The kitchen crew then prepares soup, beverages and an evening meal. Local restaurants often provide food to serve. Following the evening meal guests are invited to watch a movie or participate in a Bible study.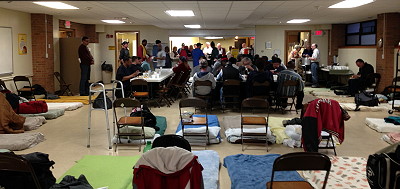 Providing Advocacy, Dignity, and Shelter, PADS Lake County offers a comprehensive approach to combating homelessness with the compassion and respect we all deserve. "Helping the Homeless Find a Way is far more than just a tag line. It speaks to the very heart of our unwavering commitment to helping people achieve the best lives imaginable."
Ways to Help PADS:
Get involved. There are a variety of opportunities for families and individuals of all ages to make a difference in the lives of others. Check out our volunteer opportunities.
Consider the many other options to support PADS.
If you are interested in participating in this valuable ministry.
contact Rose Pech, 847-223-8131 x17 or e-mail pads_at_upc@hotmail.com.