CROP Hunger Walk
"John replied, 'If you have two shirts, give one to the poor.
If you had food, share it with those who are hungry.'"
Luke 3:11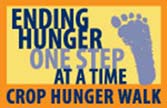 CROP Hunger Walks help to provide food and water, as well as resources that empower people to meet their own needs. From seeds and tools, to wells and water systems, to technical training and micro-enterprise loans, the key is people working together to identify their own development priorities, their strengths and their needs.
25% of all funds raised are used to help local hunger-alleviating agencies in Northern Lake County.
What's the point of walking?
Hungry people in developing countries typically walk as many as six miles a day to get food, water and fuel, and to take  their goods to market. We walk to be in solidarity with their struggle for existence.  We walk because we want to end hunger " one step at a time.
The Northern Lake County CROP Hunger Walk will be held Sunday, October 21.  Registration begins at noon starting at St. Anastasia Church -629 W Glen Flora Ave – Waukegan. The walk begins at 12:30 pm. You can opt to walk the 5K or 10K course. Contact Sarah Hester  nic.cropwalk@gmail.com