CROP Hunger Walk
"John replied, 'If you have two shirts, give one to the poor.
If you had food, share it with those who are hungry.'"
Luke 3:11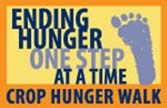 CROP Hunger Walks help to provide food and water, as well as resources that empower people to meet their own needs. From seeds and tools, to wells and water systems, to technical training and micro-enterprise loans, the key is people working together to identify their own development priorities, their strengths and their needs.
What's the point of walking?
Hungry people in developing countries typically walk as many as six miles a day to get food, water and fuel, and to take their goods to market. We walk to be in solidarity with their struggle for existence.  We walk because we want to end hunger "one step at a time".
2 CROP Walks
One is the local Northern Lake County CROP Hunger Walk and one is a National Virtual CROP Hunger Walk.
National Virtual CROP Hunger Walk
This spring – join Church World Service (CWS) and walk in solidarity with our Ukrainian neighbors who have no choice but to walk to escape violence. Join the National Virtual #Walk4Ukraine. CWS's annual CROP Hunger Walk has been dedicated to the people of Ukraine! The steps we take – and the funds we raise – will provide mental health and psychosocial support, food, shelter, livelihoods, water, sanitation, and cash assistance to Ukrainians fleeing conflict. 
Sign-up to walk as an individual or start your own team at crophungerwalk.org/usa. You can choose the length of the walk you take and where you take it (one suggested goal is to walk 117 miles by April 22 – the distance from Odessa to Chisinau, Moldova's capital, since many Ukrainians arriving in Moldova are coming from the port city of Odessa).  As we all #StandWithUkraine – let's also #Walk4Ukraine. Let's walk together for peace and security for our neighbors in need.
Local Northern Lake County CROP Walk
It's CROP Hunger Walk time again!  Our UPC team will be walking in an area park after worship on 10/23.  Please join our team or sponsor one of our walkers online at 2022 CROP Hunger Walk – UPC of Grayslake.  We also have sponsor sheets on the Mission Table in the Narthex.
CROP Hunger walks were created to support the global mission of Church World Services, a faith-based organization transforming communities around the globe through just and sustainable responses to hunger, poverty, displacement and disaster. Remember that 25% of the funds raised are used to support local hunger fighting efforts.
Each year UPC has supported this wonderful fund-raising effort. Please contact Linda Rambo, rambo.lindad@gmail.com, with any questions. Thank you for your continuing support!