Operation Christmas Child
"If someone has enough money to live well and sees a brother in need
but shows no compassion, how can God's love be in that person?"
1John 3:17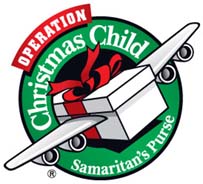 A small shoebox can have a big impact. What goes into the box is fun, but what comes out of it is eternal. Be a part of changing children's lives all over the world in Jesus' Name through the power of a simple gift with Operation Christmas Child.
Join the Children's Ministry Committee at our 11th annual Shoebox Packing Party on Saturday, November, 19 from 10:00 am to 1:00 pm.  Help them pack 500+ shoeboxes.
Gift Suggestions
TOYS: Include items that children will immediately embrace such as dolls, toy cars, stuffed animals, kazoos, harmonicas, yo-yos, jump ropes, balls, toys that light up and make noise (with extra batteries), etc.
SCHOOL SUPPLIES: pens, pencils and sharpeners, crayons, markers, notebooks, paper, solar calculators, coloring and picture books, etc.
NON-LIQUID HYGIENE ITEMS: toothbrushes, bar soap, combs, washcloths, etc.
ACCESSORIES: t-shirts, socks, hats, sunglasses, hair clips, jewelry, watches, flashlights (with extra batteries), etc.
A PERSONAL NOTE: You may enclose a note to the child and a photo of yourself or your family. If you include your name and address, the child may be able to write back.
DO NOT INCLUDE: Used or damaged items; war-related items such as toy guns, knives or military figures; chocolate or food; out-of-date candy; liquids or lotions; medications or vitamins; breakable items such as snow globes or glass containers; aerosol cans.
Donation focus in May:  balls (not the mini high bouncers), small toys like yo-yo's, kites with string,  jump ropes, toy cars, or Sewing Kit items (needles, thread, buttons, hook & eyes, thimble, tape measure, pins, etc).
Ways you can help
Donate financially " It costs approximately $7.00 to ship each box.  You can also donate toward the purchase of items to fill the boxes
Donate Filler items " school supplies, toys, hygiene items, clothing
Volunteer " Come to the Packing Party Saturday, November 19 from 10:00 am until 1:00 pm.  Bring friends.
Spread the word " tell others about OCC
Purchase UPC Shopper Gift cards.  Profit from this fundraiser help pay for shipping the boxes.
Participate in OCC fundraisers:  Bread sale on the first Sunday in October, Cupcake sale on Mothers' Day and others
Pray for this ministry