Craft Missions
"For as the body apart from the spirit is dead, so also faith apart from works is dead."
James 2:26

Provide love, a sense of security, warmth and comfort to children who are seriously ill, traumatized, or otherwise in need through the gifts of new, handmade blankets and afghans, lovingly created by volunteer "blanketeers".
Project Linus donates blankets to children, infants through teens. Many sizes are appropriate depending on chapter need. For example, blankets could be as small as 36″ X 36." The majority of Project Linus blankets are about 40″ X 60″, or what is called "crib size." Blankets could be as large as twin size for teens.
Midwest Mission Distribution Center & United Methodist Committee on Relief
These 2 organizations are looking for volunteers to make the following kits so that they can distribute them to those in need: personal dignity, student, feminine hygiene, layette (diapers, sweater, kimono, gown, receiving blanket), home care, birthing and tornado. They are also looking for people to make boys' and girls' outfits, one-handled cloth bags, school desks and sleeping mats.  Patterns are available.  On-site, they repair bicycles and sewing machines to help pastors get around and people earn a living.  Retired/extra firefighting equipment, medical supplies and non-power tools in good condition are provided to those who don't otherwise have access.  Go to Midwest Mission Distribution Center | KITS, PROJECTS & PATTERNS for kit details and patterns.
Hats, Gloves, Scarves & Blankets for Veterans  & their families in need
About 12% of the adult homeless population are veterans. 57,849 veterans are homeless on any given night.  To help keep them warm, make and donate hats, gloves, scarves & blankets. If you do not know how to knit or crochet hats and scarves, contact Cinda Bartz and she will show you an easy method.
Contact Cinda Bartz  847-727-1552
Ways you can help:
If you don't craft, donate financially so others can buy supplies

Donate yarn, fabric or other craft supplies

Volunteer

Become a Project Linus blanketeer. Provide new, handmade, washable blankets to be given as gifts to seriously ill and traumatized children, ages 0-18. It is Project Linus' policy to accept blankets of all sizes, depending on local chapter needs. All blanket styles are welcome, including quilts, tied comforters, fleece blankets, crocheted or knitted afghans, and receiving blankets in child-friendly colors. Always remember that blankets must be homemade, washable, free of pins, and come from smoke-free environments due to allergy reasons.

Help deliver blankets to the hospitals

Help organize a blanket drive

Knit, sew, quilt or crochet items for donation

Craft wooden medicine cabinets or school desks to donate

Spread the word! Tell other crafters about these ministries

Pray for these ministries
Plastic Sleeping Mats for the Homeless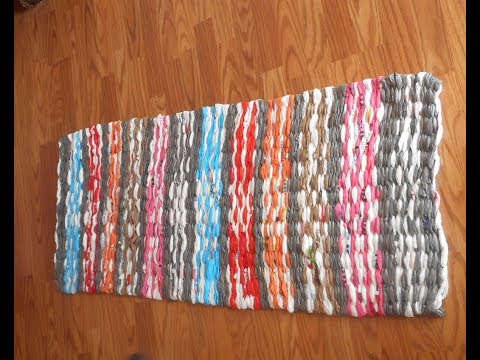 Imagine sleeping in an alley or park because you are homeless.  The ground is hard, uneven and damp.  UPC volunteers weave or crochet mats, like the one pictured on the right, that are given to homeless people in Chicago to sleep on.  The mats provide protection from the damp ground and some cushioning.  If you are interested in this mission, contact Cinda.  There are many jobs that do not require you to be a weaver or crocheter.  If you can use scissors, you are qualified to help.
Ways you can help
Volunteer:  There are 3 parts to making the mats.

Cutting the bags

Making plarn (plastic yarn) by linking the cut pieces together

Crocheting or weaving the mats.   If you don't know how, we can teach you.

Spread the word: Tell others about plastic sleeping mats.

Pray for this ministry