Our History
In 1889, some of Grayslake's earliest settlers met on their own to worship and pray each Sunday.  These pioneers and their descendants started the local Congregational and Methodist Churches.  The two churches united in 1950 to become the United Protestant Church of Grayslake.  In 1954 the sanctuary was constructed and in 1958 the education wing was built.
Our Mission
Today, we are an active and growing congregation serving in a variety of fields of ministry in Grayslake, Illinois, Lake County, and abroad.  We provide diverse programs of worship, education, fellowship and service in the name of Jesus Christ.  We believe that all persons are of sacred worth and are called to be part of God's family.  We live by God's grace and in response to that grace we seek to serve all persons.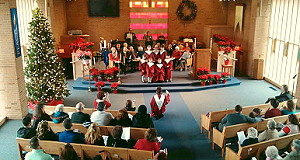 Being a disciple means that one's life is shaped by the teaching and example of a teacher. For us, Jesus is the teacher, Savior, and Lord. We are his disciples. Our goal is to shape our lives – our words and actions – around his teaching and example.
United Protestant Church offers six components of a well-balanced life of discipleship, that reflect a complete understanding of what it means to be a disciple of Jesus Christ.We seek to live, both as a community and individually, in a manner that exhibits growth in each of these areas.
Six components of a well-balanced life of discipleship
Prayer – as disciples of Jesus Christ, we commit ourselves to prayer. Following Jesus' example, we pray for ourselves and our families and the needs of the whole church community, including prayer for church leaders and our parent denominations. We pray for the needs our communities, region and world. Prayer is our primary means of keeping connected to God.
Worship – disciples worship regularly. Worship is our central connection, uniting the whole community of disciples. In its essence, worship is our gift to God. Worship is realized on Sunday morning with the whole community and in the way we live our lives for Christ in the world. Being present in worship is a serious commitment, honoring our covenant with God and with other members of the church. With our presence we honor our commitment to support one another in the life of faith.
Gifts – disciples give in proportion to their income. It is a blessing to be able to share in the good work of Christ in the world. There are many opportunities to give to the mission and ministry of the church. Generosity with all resources is a mark of a person committed to the way of Jesus Christ.
Service – all disciples serve God. At UPC, we have a system to help people discover their spiritual gifts and find a place to use those gifts for the glory of God. The hope is that every member of the church will serve at least one ministry in the church and at least one ministry outside of the church.
Study – scripture is the foundation of our understanding of God. Everything necessary to our salvation is contained in the Bible. Knowing and understanding that story is essential to being a faithful disciple. The church offers many tools for children, youth and adults to learn about the Bible in group settings or individually.
Witness – as we have received the gift of faith by means of many other witnesses in our lives, we too will offer others our understanding of faith, inviting people to encounter Jesus Christ for themselves. We witness in our conversations and we witness in the way that we live our lives.
We strive to build one another up as we become fully devoted followers of Jesus Christ.