Around the House Missions
What is junk to you is useful to others.
"Give, and it will be given to you¦." Luke 6:38
Twist Ties & Bread Bag Tabs
St. Anastasia Food Pantry in Waukegan gets donations of bread from Panera Bread, but they must be bagged before being given out. They always need bread tabs and twist ties to keep the bags closed and the bread fresh.
Glasses, Hearing Aids & Christmas Lights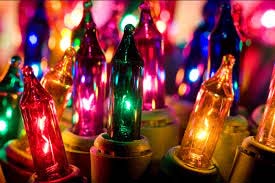 In 1925, Helen Keller challenged the Lions Club to become "knights of the blind in the crusade against darkness." They accepted.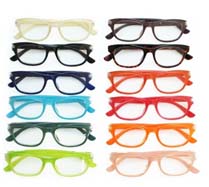 Today, sight programs remain one of their defining causes. Donate used prescription eyeglasses, sunglasses, cases, frames hearing aids and Christmas lights.
Pop Top Tabs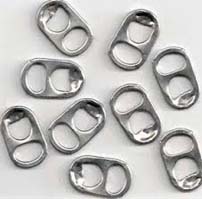 Fisher House Foundation is best known for a network of comfort homes where military and veterans' families can stay at no cost while a loved one is receiving treatment. Donate pop top tabs to help raise funds for this mission.
Labels for Education
By collecting UPCs and beverage/sauce caps from over 2,500 participating products, local schools earn points that can be redeemed for arts, athletic and academic merchandise.
Box Tops for Education
Find Box Tops on hundreds of products. Clip Box Tops from each package.   Box Tops are each worth 10¢ for a local school.
Printer Cartridges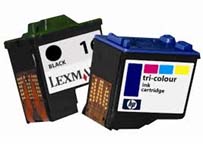 Bring in your used ink jet or laser jet cartridges and when we recycle them, UPC earns money towards Operation Christmas Child expenses.
Aluminum Cans
Bring in your empty aluminum cans and when we recycle them, UPC earns money towards our Relay for Life team.
UPC is expanding its commitment to care for our planet by participating in 5 TerraCycle brigades. Each brigade and what it collects is listed below. For more information on TerraCycle, go to TerraCycle.com.
Personal Care and Beauty Brigade® – any brands
1.    Hair care packaging such as shampoo bottles and caps, conditioner bottles and caps, hair gel tubes and caps, hair spray bottles and triggers, and hair paste plastic jars and caps.
2.    Skin care packaging such as lip balm tubes, face soap dispensers and tubes, face lotion bottles, tubes and plastic jars, body wash containers, soap tubes and dispensers, body lotion dispensers and bottles, shaving foam tubes (no cans), and hand lotion bottles and tubes.
3.    Cosmetics packaging such as lipstick cases, lip gloss tubes, mascara tubes, eye shadow cases, bronzer cases, foundation packaging and bottles, powder cases, eyeliner cases, eyeliner pencils, eye shadow tubes, concealer tubes, concealer sticks, and lip liner pencils.
Tom's of Maine Natural Care Brigade® – any brands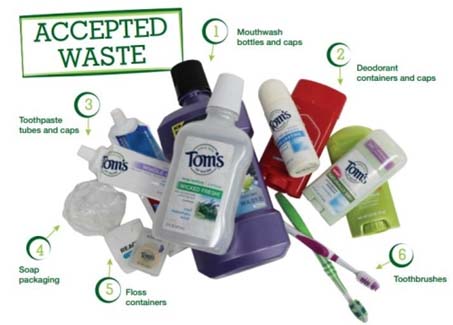 1.    Mouthwash bottles and caps
2.    Deodorant containers and caps
3.    Toothpaste tubes and caps
4.    Soap packaging
5.    Floss containers
6.    Toothbrushes
Scotch Tape Brigade® – any brands
1.    Plastic tape dispensers
2.    Plastic tape cores
Drink Pouch Brigade® – any brands
1.    Aluminum and plastic drink pouches (no need to remove the straws)
2.    Drink pouches with spouts
Energy Bar Wrapper Brigade® – any brands
1.    Foil-lined energy bar wrappers
2.    Foil-lined granola bar wrappers
3.    Foil-lined protein bar wrappers
4.    All LÄRABAR foil-lined bar wrappers
5.    All Cascadian Farm foil-lined bar wrappers
Baby Food Pouch Brigade – any brands
1.    Baby and toddler food pouches
2.    Baby and toddler food pouch caps
GoGo squeeZ Brigade®
Healthy snack plastic pouches and caps – any brands
Ways you can help:
1.  Donate the following items or participate in one of the TerraCycle brigades listed above:
Aluminum Cans
Pop top tabs
Used eyeglasses, sunglasses, cases or frames, hearing aides and Christmas lights
Used ink jet or laser jet cartridges
Bread bag tabs and twist ties
Labels for Education
Box Tops for Education
TerraCycle Brigade Items
2.  Spread the word! Get others to save these items too
3.  Pray for these ministries